We are an independent expedition sailing operator, incorporated as a limited company in Oslo, Norway (BRREG, No. 956449060). Our yacht sails under the Norwegian flag.
Vision:
We strive to contribute to an integrated understanding and awareness of our planet, with a perspective from the sea. To achieve this, we want to be a preferred partner for schools, NGOs and research institutions and we plan to carry out and participate in research, documentation and educational projects and offer sustainable and custom-tailored yachting tourism.
Mission:
To create a platform for private and public expeditions in remote areas of the seas with a focus on sustainability, the environment and scientific topics of interest. We want to organise expeditions for education, conservation, documentation and research. These findings will be disseminated through school projects, public talks, multimedia- and written publications.
The Crew: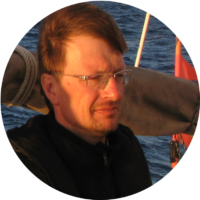 Peter Keller
CEO & Skipper
Peter is an experienced skipper and expedition leader. He has a long involvement with yachting associations, crews and sailing vessels worldwide. He was a member and long-time head of "Seilsamvirket", had his own sail racing team and has skippered and led numerous expeditions around the world. As a skipper he has sailed more than 20,000 NM.
Peter holds a Master degree in Geology and a PhD in Geophysics, and is the manager of an advisory firm in Norway. Through his profession, Peter participated and led many scientific geological and geophysical expeditions and field measuring campaigns for research institutions and industry.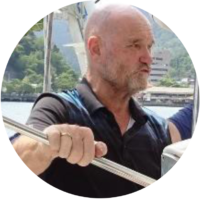 Arne Buhs
CFO & Skipper
Arne has been sailing all his life, both for racing and leisure purposes. After spending his younger days in Norwegian and Mediterranean waters, he has in past years skippered the company vessel in the Caribbean, Mediterranean, Pacific and Indonesia. He has sailed more than 5,000 NM as a skipper.
Arne is a chartered accountant in Norway. He has served as consultant, project leader and quality controller for large projects within the IT- and economy sector for more than 30 years. In 2002, Arne founded and subsequently managed a small charter operator in Croatia until 2005.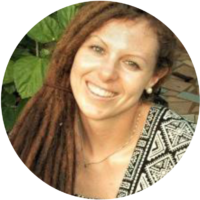 Linn Charlotte Klund
Cross Cultural Advisor & Skipper
Linn Charlotte has since 2013 been sailing and living with Paul Lübbe on board their boat "Amanda-Trabanthea". During years of circumnavigation, Charlotte has gained more than 30,000 NM. She is a language enthusiast and besides teaching and volunteering in Nicaragua, Germany and Vanuatu, she has lived in Indonesia, Austria and Grenada.
Charlotte is an anthropologist who also holds a degree in homeopathy and basic medicine. When not sailing, she organises workshops and gives lectures together with her partner Paul, sharing their travel experiences as well as illuminating environmental observations from remote corners of the world.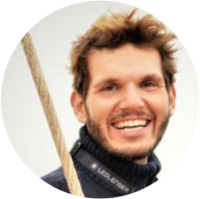 Paul Lübbe
Fleet Captain & Skipper
Paul has been sailing and living with partner Charlotte on board their boat "Amanda-Trabanthea" since 2013. He turned his long-time dream of sailing the Northwest Passage into reality, as he was promoted to watch-leader and later first mate on the 120 ft. sailing ship "Infinity" during their 2018 expedition from Alaska to Greenland.
Paul is a social science and music teacher with a genuine interest in the history of sailing and exploration, especially in Arctic Waters. Years of circumnavigation has acquired him a total of over 30,000 NM.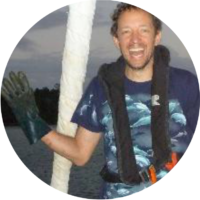 Oliver Trueb
Sustainability Manager & Crew
Oliver is an active Hobie Cat sailor and has been crew on several sailing expeditions, where he has a contributed towards boat maintenance, sailing and navigation.
Oliver holds a master's degree in urban planning and environmental management. During the past 30 years he participated in many projects for governmental agencies and international organisations in Asia, Europe, Africa and the Caribbean. He has a keen interest in sustainable tourism development and holds the firm conviction that the only way ahead for tourism is to cater evenly for the interests of local populations, nature and visitors.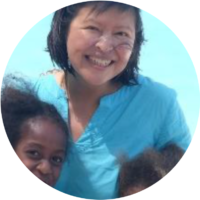 Debbie Chan
Designer, Cook & Crew
Debbie has participated in several sailing expeditions and contributed with her social competence, eye for photography and her good cooking skills.
Debbie is a branding-focused graphic designer with a strong print design background, specialising in corporate identity and the execution of print media workflows. Holding a degree in photography, she creates highly illustrative designs with visually outstanding graphics.
Responsibility: Wicked Horizon AS
Address / Location: Oslo, Norway
Company Registration Number (BARREG) 956449060
Layout & Corporate Identity: Debbie Chan / deboli
Photography:
• Wicked Horizon, by A. Buhs, D. Chan, P. Keller, O.Trueb, L.C. Klund, P.Lübbe
• Seilsamwirket, by A. Buhs, D. Chan, P. Keller, O.Trueb
• Amanda Sailing, by L.C. Klund, P.Lübbe
All images on this web site are the property of the above photographers and may not be used without their explicit permission